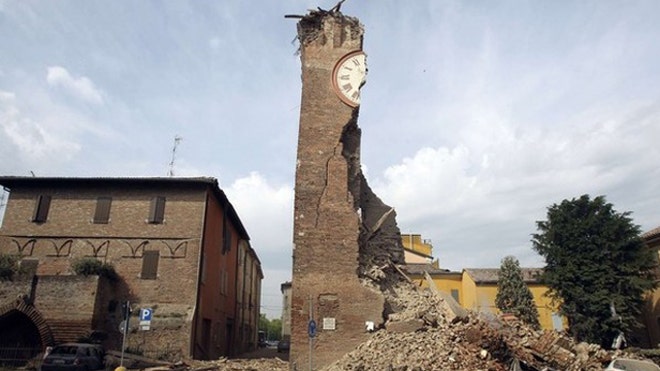 REPORT: A magnitude-6.0 earthquake shook several small towns in northeast Italy Sunday, killing four people, knocking down a clock tower and other centuries-old buildings and causing millions in losses to the region known for making Parmesan cheese.
The quake struck at 4:04 a.m., with its epicenter about 35 kilometers (22 miles) north of Bologna at a relatively shallow depth of 5 kilometers (3.2 miles), the U.S. Geological Survey said. Civil protection agency official Adriano Gumina described it as the worst quake to hit the region since the 1300s.
The four people killed were factory workers on the overnight shift when their buildings, in three separate locations, collapsed, agency chief Franco Gabrielli said, In addition, he said, two women died -- apparently of heart attacks that may have been sparked by fear. Sky TG24 TV reported one of them was about 100 years old.
Gabrielli said dozens of people were injured.
Read more: http://www.foxnews.com/world/2012/05/19/5-magnitude-earthquake-shakes-northern-italy/#ixzz1vWLMPXBO