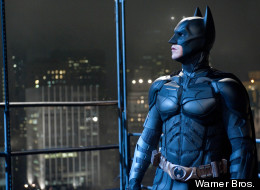 This is what I call a summary post. Below my post are links to various stories covering the increased hype and expectations of The Dark Knight Rises. Its upon us! Less than 3 weeks left. With nearly a month of pre-sale tickets, where does the movie stand?
These are figures released by AMC as reported by The Chicago Tribune:
- AMC adds more midnight shows to meet demand.
- AMC added 3:45am show times to the IMAX showings as overfill for the midnight premiere demand
- AMC sold well over 23,000 pre-sale tickets for its Batman marathon
- AMC sold more than 100,000 pre-sale tickets.
And these are just AMC's numbers. AMC is the 2nd largest theater chain.
READ REPORT HERE
For information about the film's tracking, check out these other links:
"DARK KNIGHT RISES" BOX OFFICE: BATMAN COULD BE BIGGER THAN "THE AVENGERS"
"DARK KNIGHT RISES" SET FOR MASSIVE OPENING, RUNNING SLIGHTLY BEHIND "AVENGERS"
Check out my own take on The Dark Knight Rises' box office potential by reading my past posts here.